Conversation with KINGA ANTONIAK, FRONTEND DEVELOPER

DO YOU QUESTION STATUS QUO WHEN YOU BELIEVE SOMETHING CAN BE DONE BETTER?

I'm one of those people who speak up when something is not working as well as it could. I cannot turn a blind eye to bad practices either. What I'm trying to do then, is to suggest what could be done differently. Even if there is little time to make changes, it is always worth to try and do something in a better way or improve a process.
I'm quite aware, of course, that one cannot join a project and start off from criticising it – "it's all wrong, it all needs changing". We have to remember that most of functioning practices did not come out of nowhere. They can be the result of particular client specifics or business requirements. On the other hand, we cannot hold on to elements that are not functioning properly. It's worth to use one's experience here – I react if there's a reliable solution I can offer.

DOES A SIZE OF A COMPANY HAVE ANY INFLUENCE ON THE QUALITY OF ITS PROJECTS AND CLIENT APPROACH?

In my opinion the size of a company doesn't matter much. What is more important is the project spirit.


It is always worth to try and do something in a better way or improve a proces
WHAT DO YOU MEAN BY THAT?

It all depends on the team. It's best when people identify with the project, know what's their role in it and why it is so, and what's the goal. It is important to be aware of usefulness of developed software. If one of the above elements is missing because of for e.g. fuzzy responsibility for project's success, people care less about its final result.

DO YOU FEEL THAT A WOMAN, IN MEN-DOMINATED IT FIELD, NEEDS TO PUT MORE EFFORT IN PROVING HER COMPETENCES?

I was always trying to convince myself this wasn't the case but different situations from the past proved otherwise. I'm trying to fight such approach as I don't accept such treatment. I guess nobody wants to be labeled. Another thing is that, whenever a new person joins the team, there is bound to be a skill test for them. It happens irrespective of one's position within company, seniority or gender. I just want to always prove that I can do it. Because I can [she laughs].

HOW DID YOU START YOUR CAREER AS A FRONTEND DEVELOPER?

I wanted to work as a graphic designer. I was asked to try and code one of the layouts. This proved to be a turning point in a way I viewed my career. I found it satisfying to create something that other people can use, that enables some of them to make their online appearance (without which it's hard to picture life at all), and that provides entertainment or information to others.


TO WHAT EXTEND DOES KNOWLEDGE ABOUT USER EXPERIENCE HELP YOU TO WORK AS A FRONTEND DEVELOPER?

This kind of knowledge is useful as it helps to pair client's expectations with user's comfort. Theoretically, you can build website with different options based on e.g. pop-ups. It won't be the most comfortable solution for the user though. It's a trivial example of course but it does show quite well what I have in mind.

WHAT WILL BE THE NEXT STEPS IN YOUR CAREER?

My professional experience led me to believe that success depends largely on management. It happens regardless of the size of a company or a team, or complexity of a project. I saw it myself working for both small companies and corporations, on simple and complex projects. The broad perspective I gained made me think of becoming a Project Manager or a Scrum Master. Why? Because we can only take advantage of the full potential of a team when we create appropriate conditions for them.

YOU ALSO RUN A FIRESHOW COMPANY TOGETHER WITH YOUR HUSBAND. IS IT SOMETHING COMPLETELY DIFFERENT OR DO YOU SEE SIMILARITIES WITH YOUR WORK IN IT?

The biggest differences are about the nature of activities and the time spent with client. In case of IT they are virtual and totally opposite to the artistic activities, that are direct and real. The time we spend contacting the client and the way we communicate with them differ too – I believe they are more challenging when fireshows are concerned. The reason is quite simple, as opposed to IT, there is no possibility for corrections. We set a scope with the client and then meet at the show, so if something fails in communication, the client will not be happy with the result.

IT projects, in turn, provide opportunities to – depending on the chosen implementation path – have the client monitor tasks being completed as they progress or introduce improvements once the job is completed.
Undoubtedly, artistic activities and IT projects share common ground – one needs to clearly state the objectives and then complete the job according to plan. And as a result we will have a great show or a smoothly running app.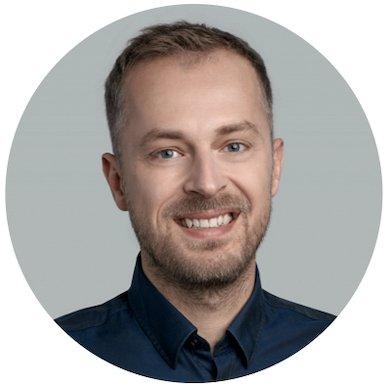 Talk to Krzysztof Molin, our CHIEF EXECUTIVE OFFICER We'd love to support you on your commerce technology journey. Exchanging experiences, discussing challenges and solutions works for mutual benefit. Whether or not we are able to help, we promise we'll always be pragmatic and honest.