Conversation with RAFAŁ MIKOŁAJCZUK, LEAD SOFTWARE ENGINEER, aka "Koniu" (The Horse)

YOUR FIVE YEARS HERE HAVE PASSED. HAVE YOU BEEN CELEBRATING?

I brought donuts to Ruska Street and felt proud with myself and the fact that the past five years were exactly what I wanted them to be like. I owe it mainly to the people I work with, but also to my own determination, which helps me to move forward and develop. I don't feel stuck.

WHAT DO YOU REMEMBER FROM YOUR FIRST DAYS ONBOARD?

I remember I felt like a duck to water from the very start. I saw a well-oiled team of experts beaming with the professional approach to work. People knew exactly what they should do to allow their clients, target users and themselves derive satisfaction from the effects of the decisions and actions taken. However, such an attitude was combined with an easy-going approach. I quickly realised that was the place I wanted to stay and I could do a lot, despite being quite inexperienced at that time.

HOW USEFUL ARE REGULAR FEEDBACKS FOR DEVELOPMENT?

I find it important that we always talk in a very personal way. We discuss our plans for the future, the way we work, what we are like as people and what we can share with each other. Apart from project topics, we also talk openly how to become a better engineer, in a broad sense of this word.

Personally, I also have no problem with approaching my bosses and drawing Artur's or Krzysiek's attention to their mistakes. This is how I see my role as the project leader. However, it is not about my position – you don't have to be a senior or leader in this company to have a genuine impact on what is happening and how. If you are proactive and want to make a difference, then your professional experience and position don't matter. Everyone can share an opinion or idea.

YOU MENTIONED YOUR ROLE. HAVE YOU ALWAYS WANTED TO BE A LEADER?

I knew I am predisposed to that and felt it could be good fun. Already during the job interview I admitted that it had always been my dream position, although the job offer did not include that role. Later on, I learnt that our company does not hire leaders or managers because these functions are held by technical experts. This is nevertheless related to other competencies and tasks that these of a Software Engineer, Tester, or BA. Being a project leader means taking responsibility for someone else and what other people do. Your main task then is to improve the work process for the others.

WHAT TURNED OUT TO BE THE MOST DIFFICULT FOR YOU?

To trust others. But I know that it is worth giving the team a free hand and just monitoring if things are going the right way. It wasn't easy at first: I felt I was in charge of a large project and had to trust people at the same time because I wasn't able to do it all by myself. However, I quickly realised that it was the best thing I could do as the project leader. This is why I trust my team on everyday basis and help them when they face a problem which they cannot solve on their own.

YOUR ADVICE FOR A LEADER?

A leader builds trust of his team through his/her work and involvement in the project matters. My piece of advice is: get to know your team members. Some people find it difficult to communicate what is going on wrong or could be improved. It is due to their conviction that it could be perceived as a personal attack, and not constructive criticism. People won't trust you if they don't know you.

IS IT POSSIBLE TO DO IT AT WORK, OR ONLY AT A PARTY OR A TRIP, ETC.?

If you can unveil your true 'self' at work, then it may be enough. However, going out for a beer and talking about more personal stuff may help, because you will get to know each other much better. A secret of successful development of close relations at work is that some initiatives are brought around by the team members. Some general 'resolution' on what we should be like would never work. On the contrary, it would have an opposite effect. You can build a genuine relation on authenticity and grassroots activities. Summing up, professional relation developed on daily basis in the office is the foundation. Personal relation – which you can deepen after work – is an added value, because it strengthens trust and allows for some honesty.

IS PLAYING POKER A GOOD WAY TO ACHIEVE IT? YOU BELONG TO OUR COMPANY TEAM OF POKER PLAYERS, DON'T YOU?

Yes, absolutely! Playing until 4:00 AM lets the players get to know each other in a way, which would be unachievable in other circumstances. The game is stressful – especially if the stake is higher than a few sweets – and people show their real faces. It is said poker is a game of cards. I would say that it is a game of characters and emotions.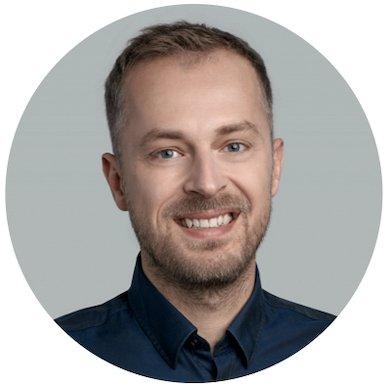 Talk to Krzysztof Molin, our CHIEF EXECUTIVE OFFICER We'd love to support you on your commerce technology journey. Exchanging experiences, discussing challenges and solutions works for mutual benefit. Whether or not we are able to help, we promise we'll always be pragmatic and honest.