Conversation with DAREK SMOLAREK, SENIOR SOFTWARE ENGINEER

APPARENTLY, YOU NEVER LEAVE ANY QUESTION UNANSWERED

When someone asks a question, he/she expects me to answer. So I have to do it – showing respect to that person. Strong interpersonal relations are very important to me. I understood this when I started working here. The point is, developing software is not just writing code. It is also interacting with people – if we cannot agree, I won't be able to do anything on my own.

FINISH THE SENTENCE: WHAT I LIKE THE MOST ABOUT MY JOB IS…

… people, because not only are they professional, but also open-minded.

BEING A BETTER ENGINEER IS…

… getting to know your flaws and working on them – one by one. I start from the ones which don't require much involvement from me. I have discovered many times that changing even the tiniest vice has a huge impact on the quality of life. And every change in our life for the better, even the smallest one, makes us better engineers.

WHY ARE YOU CALLED "THE M.C. AMONG DEVELOPERS"?

For a few years I used to be, maybe not the M.C. (or master of ceremonies), but a musician at wedding parties. What is interesting, I currently use my previous experience at my work. It affected me, for example, in terms of being a leader: I have developed confidence, I am not afraid to talk and can listen attentively. I take up challenges and always expect the unexpected.

ARE MUSIC AND SOFTWARE DEVELOPMENT CLOSELY RELATED?

Yes, because music is mathematics in a different way – you can hear it in its harmony and rhythm. Individual sounds are separated by a precisely determined distance. Generally speaking, it is the skilful use of these distances and relations between sounds, which creates the atmosphere of a song: joyful, intriguing, reflexive etc. This is what harmony is – mathematics among notes.

GETTING BACK TO THE POINT… WHEN YOU BECAME A SENIOR SOFTWARE ENGINEER, YOU WERE THE YOUNGEST TEAM MEMBER HOLDING THIS POSITION

I must admit I felt strange about being promoted to the senior level. I thought about myself: "Not enough to be a senior, too good to be a regular". I still find it true to some extent. The other thing is that I do not care much about the title of a position.

WHO WOULD YOU BE, IF YOU HADN'T BECOME A SOFTWARE DEVELOPER?

A luthier. I have always wanted to make an instrument from "A" to "Z" – create something beautiful from an inconspicuous piece of wood.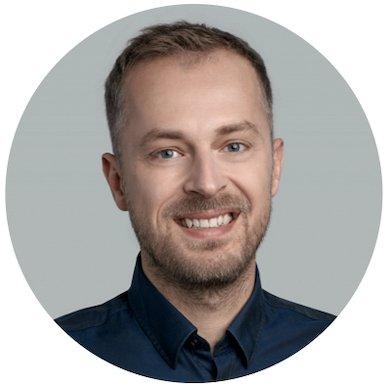 Talk to Krzysztof Molin, our CHIEF EXECUTIVE OFFICER We'd love to support you on your commerce technology journey. Exchanging experiences, discussing challenges and solutions works for mutual benefit. Whether or not we are able to help, we promise we'll always be pragmatic and honest.