Conversation with AGNIESZKA NAWIŃSKA-GRUDEK, our BUSINESS ANALYST

INITIALLY YOU WERE A MEMBER OF OUR APPLICATION SUPPORT TEAM, BUT AFTER A WHILE YOU CHANGED YOUR AREA OF INTEREST TO BUSINESS ANALYSIS.
Yes. I joined ENGINIETY having had experience in Support. However, during the first of my six-monthly employee reviews (meeting to discuss my further development and skills) I already suggested I'd be interested in working as Business Analyst in the future. My supervisor at the time approved of it and it made me even more certain that this was it! I wouldn't be myself if I didn't grasp the opportunity when it presented itself.

HOW LONG DID IT TAKE YOU TO PREPARE TO BECOME BUSINESS ANALYST (BA)?
I'm still learning and sharpening my skills as you can never have too much information or experience. An Analyst should have knowledge from numerous areas so I think that my development plan stretches across the next… 20 years ;)
As far as my preparations to join the project are concerned, I tried to broaden my Business Analysis knowledge through courses, training programs and by joining subject-related forums basically throughout the whole time I worked as Application Support Engineer.
I did my best to gain knowledge about working in Scrum team and, among other things, I was awarded AgileBA Foundation certificate by APMG International.


WHAT WAS YOUR MOTIVATION, YOUR MAIN REASON FOR CHANGING YOUR CAREER PATH?
It was the need to develop and to better understand the process. Inaction is never good for me both in private and professional life. Once I achieve something I always start to look for new goals. As they say – you need to grow because if you stand still, you are really going back as the world and progress move forward. Moreover, if you have the opportunity to direct your career path and define what interests you then you need to do it as not everybody gets a chance like that.
As far as the choice of the the job itself is concerned, the key factor was the fact that an Analyst works across all levels and has a lot of room for continuous development. There's no stable, repetitive process either – it's creative work that doesn't allow for monotony and requires quite a bit of flexibility. And my brain freezes doing the same things over and over.

DID YOU CONSIDER AN OPTION THAT CHANGING POSITIONS MIGHT NOT WORK OUT FOR YOU, OR YOU MIGHT END UP DECIDING THAT IT'S NOT IT AFTER ALL?
Absolutely not. I wouldn't go for such a change if I didn't know what the Business Analyst job entails – I knew what I was doing and I felt secure with my decision.
As for the "might not work out" bit – there is no such scenario for me. If something happens then you keep on looking for new solutions and possibilities to find the right one. Maybe that's why I wanted to be an Analyst :)


MOVING FROM SUPPORT TO BA IS NOT YOUR FIRST PROFESSIONAL CHANGE – YOU PLAYED CELLO PROFESSIONALLY BEFORE YOU WENT FOR IT.
I worked in different places during my studies at the Music Academy. Being a musician was irregular enough for me to have time to do other things but they had nothing to do with IT.
I didn't plan to stay for long at the beginning of my corporate adventure. However, I managed to change jobs quickly and make use of my language skills. I felt that I was in a good place then and I started to broaden my knowledge attending training and mentoring sessions.
With time, I decided that there was nothing more to learn for me there and started to look for something new – that's how I found ENGINIETY :) Thus, changing positions from Application Support to Business Analyst seems only… natural to me.

WHERE CAN WE LOOK FOR HELP WHILE PREPARING AND LEARNING FOR A NEW ROLE?
It's always worth checking what the position looks like from the inside. Hence, the first person I would contact would be the one that holds the position already. This shouldn't be a problem as we count outstanding specialists in ENGINIETY by dozens :)

The next step is to use knowledge available at specialist sites – you might find a free course there that could teach you basics. If you, however, decide to extend your knowledge, you can go one step further and book relevant training offered by various companies on the market (it's good to read some reviews before you choose one).

HOW WOULD YOU RATE THE PROCESS? WOULD YOU DO IT AGAIN?
Definitely. I'd be worried if I stopped planning for my professional future. Lack of goals would be a sign that I stopped growing.

DO YOU PLAN THE NEXT CHANGE?
It is certainly not the last change I will face.

WHAT WOULD YOUR ADVICE BE FOR SOMEONE WHO THINKS ABOUT CHANGING THEIR CAREER PATH?
Just do it :)
If you are thinking of it, it means you are in a place that doesn't meet your current expectations. In the long run, feeling that you are wasting your potential and time or not developing your skills leads to weariness and burnout.
Talk to your friends, think about your interests, develop essential skills and don't give in to doubts – you can do it.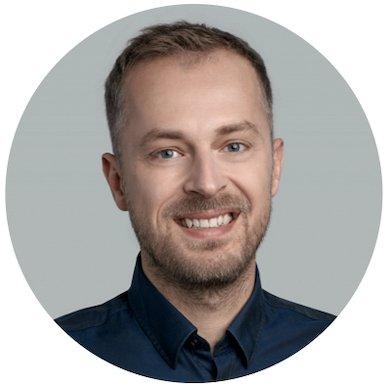 Talk to Krzysztof Molin, our CHIEF EXECUTIVE OFFICER We'd love to support you on your commerce technology journey. Exchanging experiences, discussing challenges and solutions works for mutual benefit. Whether or not we are able to help, we promise we'll always be pragmatic and honest.