Conversation with MACIEK ZYCH, QUALITY ASSURANCE ENGINEER

WORKING IN OUR COMPANY IS YOUR FIRST JOB IN THE IT INDUSTRY

After graduating from civil engineering, I got a job as a coordinator of roads and rail construction. It involved a lot of travelling, which was not burdensome at first. However, with time I grew tired with life reduced to working, eating and sleeping. That is why I spent the following two years in the design office… meanwhile preparing myself to retrain and start my career in IT. I was learning software development on my own, I also completed two courses – my plan was to become a software developer.

…AND YOU BECAME A TESTER

I knew Dawid, who was already working here. He encouraged me to apply for a job as a QA Engineer. I did some studying… and here I am!

HOW DO YOU REMEMBER YOUR FIRST DAYS IN OUR COMPANY?

I joined a project strongly based on the Hybris platform. With time I started appreciating it because I learnt a lot. The team was solid, joyful and involved, so I only have good memories from that time. I could count on help from every person I turned to. Everybody needs support from an "older brother" – an authority who knows the project, is outgoing and open. And who will push you in the right direction, letting you fall… because he knows that failures will shape you.

WHAT IS YOUR ADVICE FOR THOSE WHO ARE BEGINNING THEIR CAREER AS TESTERS?


Don't be afraid to talk, ask, express doubts. I think there is no such thing as a stupid question
It is worth talking to analysts – they know the client's perspective, which is very valuable
Most importantly: integrate, join company trips and events – you have to be a team player at work


WHAT DOES A CIVIL ENGINEER AND AN IT ENGINEER HAVE IN COMMON?

I think that they both should have the following features: interpersonal and analytic skills and assertiveness. As a matter of fact, I think that engineers from different industries have a lot in common, and they differ only with their knowledge.

WHAT DID YOU LEARN OR HOW DID YOU BENEFIT FROM BEING QA ENGINEER?

I am more cautious about others: I try to approach everyone, as if they had something interesting to say. There are no "mouseburgers" (plain and bland people) here, everyone has his/her own opinion and is unique. I became much more outgoing because of the diversity in my team.

YOU ARE ALSO BEGINNING TO DEVELOP SOFTWARE?

I was learning that when I was preparing to change my career path. Later on, I had an opportunity to support the frontend work in one of the projects. Thanks to this, I've realized how important it is to think about self-development in a wider perspective, not only within certain job duties. I don't forget about the frontend issues, but right now, I am exploring the field of test automation. And SCRUM certification is also on my list.

IN THE PREVIOUS EDITION OF OUR SPORTS MASTERS COMPETITION YOU WERE THE LEADER IN THE BIKE CATEGORY. WHY DID YOU CHANGE THE DISCIPLINE IN THE NEXT ONE?

Last time, I've covered the distance of 1767 km during one month, when earlier I was cycling 2000 km… a year. My legs hurt even long after the end of the competition. Cycling is a pleasure for me. However, at that time, I lost my grip. This spring I chose running because I decided it was something new for me, and it might be good fun.

HOW WAS IT?

Exactly as I expected – hard. Running is a completely different pair of shoes, so the 100 km monthly limit was a huge challenge for me. Luckily, I succeeded so I would like to congratulate myself and all the other participants. It was nice to get off the bike for a moment.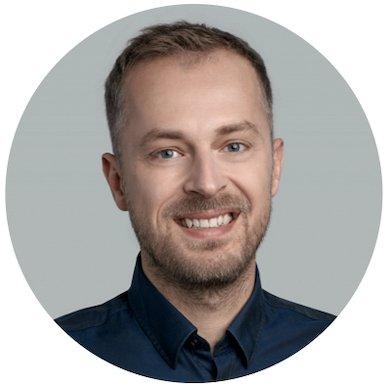 Talk to Krzysztof Molin, our CHIEF EXECUTIVE OFFICER We'd love to support you on your commerce technology journey. Exchanging experiences, discussing challenges and solutions works for mutual benefit. Whether or not we are able to help, we promise we'll always be pragmatic and honest.