Conversation with KAMIL MOROŃ, SENIOR FRONTEND DEVELOPER

YOU JOINED ENGINIETY IN APRIL 2019. WHAT HAS CHANGED SINCE THEN?

A lot has changed, definitely. I work in full Scrum now, I've got bigger picture of what working with clients really is, I gained experience in dealing with cloud and infrastructures using Docker and OpenShift, I got to know Vue.js and Nuxt.js frameworks… I learnt a lot and I'm grateful to people who like to share their knowledge.

HAS THE LIST OF YOUR FAVOURITE TOOLS DEVELOPED?

It has gotten longer, that's for sure. As far as frontend is concerned, I got to like Vue.js a lot and I'm sure it is going to stay with me for longer. As for backend stuff I normally use NodeJS and with mobile I still stick to Ionic but I'd also like to have a go with React Native ;)

YOUR STARTED AS A SOFTWARE ENGINEER AND NOW YOU ARE A SENIOR FRONTEND DEVELOPER…

My adventure with frontend started a few years ago and I'm getting more and more into the swing of it. My favourite are huge-scale projects that use SSR, where frontend is rendered by a server, which means that the client app becomes a server and a client at the same time. What's more, the app is often implemented in the cloud so sometimes you create the front and you are so busy with the backstage – integration layers and infrastructures – that you don't see the html and css for weeks on end.

YOU KEEP UP WITH THE TRENDS IN FRONTEND DEVELOPMENT AND BRING UP SOLUTIONS THAT ARE QUITE NEW ON THE MARKET. DOES IT MEAN YOU ARE PLANNING TO STAY WITH THE FRONTEND FOR LONGER OR DO YOU SEE ANY OTHER CAREER OPPORTUNITIES FOR YOURSELF?

As for tools and technology, I search the market for novelty solutions and check what kinds of specialists are most wanted. So, for example, when I see that React Native is the top of the mobile apps, I'll consider using it at my next project (if there is a demand for it of course).
Recently I've been learning a bit about DevOps to better understand the whole of the issue. I would also like to try out Machine Learning as this is what interests me since the university :) Generally, I tend to create a better version of myself in all I do. One should always push for more in self-development ;)

WOULD YOU RATHER CONTINUE WORKING AT YOUR CURRENT PROJECT OR MOVE TO ANOTHER – ALREADY EXISTING OR A NEW ONE?

My goal is to become an expert in what I do. That's why it is important for me to take up challenges and get to know new large-scale and, preferably, non-standard technologies. I believe it is good to get familiar with lots of projects to gain broader insight and new experiences. And it is also good to remember that it's better to be hungry for more than overfed ;)

HOW CAN YOUR COMPANY AND/OR TEAM HELP YOU DEVELOP?

It's mostly projects and choosing various competencies that promote development. They allow team members to learn from each other. There is no better environment to develop your skills, both technical and soft, than the one with ambitious goals and open-minded, helpful people. You cannot forget the role of a client here – there is a lot to be learnt from specialists on client's side too. I do value working together over both infrastructure and process itself.

WHAT TYPE OF LEARNING SUITS YOU BEST AND WHO DO YOU LOOK UP TO?

The thing that works best for me is learning through practice – you get a task about the issue and you need to make use of your knowledge there and then. This is how it works with projects based on new technologies – you are a bit in R&D and a bit in your project team. Conferences and workshops are also obligatory as they let you connect with experts. The very being in the ambient of it and listening to passionate people motivates you and gives you a fresh glance at things. It is also about learning about novelties, checking what works best for others, what other companies use and what makes money for them. Tutorials are also interesting (e.g., Udemy) as they let you learn stuff, that you will soon put into practice, at your own pace. Speaking of authorities – I always looked up to my Dad who works a lot, works hard and is diligent in what he does. We always manage to find time for each other though. I'd like to be like him.

IT IS DIFFICULT NOT TO ASK ABOUT ANOTHER MEMBER OF YOUR FAMILY… HOW DO YOU FIND WORKING WITH YOUR BROTHER?

I like working with my family – it helps me be myself and lets me feel more at ease. But for purely practical reasons, I knew that Arek would be a good employee and through his work he would greatly benefit the company. I also felt that ENGINIETY is a long-term workplace – professionally and in terms of good atmosphere and people. That's why I recommended it to my brother. Generally, I recommend cooperating with family :) Me and Arek have been working on different projects together since I can remember. We walked Camino Portugués as well as created websites and graphic projects together. We even created a game together at the university – our own version of Tanks 2D :) It was our term project for programming-related module. I was never very fond of games. But I knew what Tanks was and I believed it to be more interesting than writing about another library system etc. That project took us several months and involved implementing elements of physics, such as skew projection for e.g., and mathematical approach, which I always liked.

DO YOU DISCUSS WORK A LOT WITH YOUR BROTHER?

I'm not even aware of it but come to think of it, it must be quite a lot. It happens kind of daily to us :) We often talk about our current challenges and exchange pieces of advice on certain solutions. Sometimes Arek helps me and sometimes I help him :) All in all, we are trying not to push it. When one of us says "No more talking shop", it's a sign to curb it :)

YOU ONCE SAID YOU'D LIKE TO CREATE AN APPLICATION THAT HELPS PEOPLE. DO YOU HAVE YOUR OWN IDEA HOW TO DO IT OR CAN YOU GIVE SOME EXAMPLES OF SIMILAR UNDERTAKINGS THAT INSPIRE YOU?

I like helping others and I have a lot of plans and ideas. If I was to create something new, I would like it to be helpful, as it is with physiotherapy and health monitoring tools or therapy supporting apps. But I believe our daily work at e-commerce can also make users' life easier :) Creating ecommerce systems enables users to perform actions remotely without having to physically get to a selling point, especially when time and means are limited. Moreover, when we maintain minimalistic and intuitive interface, in accordance with WCAG guidelines for people with disabilities, the system can make a lot of daily matters easier and is more accessible to a vast array of our users.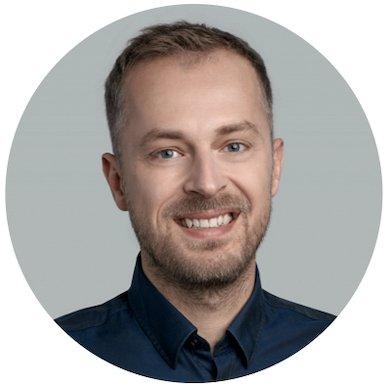 Talk to Krzysztof Molin, our CHIEF EXECUTIVE OFFICER We'd love to support you on your commerce technology journey. Exchanging experiences, discussing challenges and solutions works for mutual benefit. Whether or not we are able to help, we promise we'll always be pragmatic and honest.