If you are running a SAP Commerce Cloud platform you must have already come across Spartacus - SAP's new, modern shop storefront that is said to provide unique customer experience, modern technology stacks and fast, decoupled frontend development.
It seems inevitable for legacy frontends to be replaced as SAP's accelerators are not a match for modern customer experience anymore. Modern reactive and progressive web applications are spreading over the world and your commerce platform needs to keep up with the pace.
But what is the best way to proceed with the transition to those modern frontend paradigms? Is Spartacus the way to go? Does it provide a long-term strategy or are there strings attached?
In this article series we provide strategical, technical and practical information about SAP Spartacus derived from our 12 years experience with SAP Commerce Cloud, completed Spartacus implementation projects as well as work on alternative storefronts.
In the 5 parts of the series we discuss general questions, impacts on strategy, technology and project delivery aspects and provide our overall assessment supporting your decision making and helping out to craft your architectural strategy.
In this very first part of the series, we focus on general information about Spartacus.
Read below about

What is SAP Spartacus? What are the main advantages of Spartacus? How does it differ from other SAP modules? Is Spartacus a mature solution? What are the alternatives to Spartacus?
Will Spartacus help in transitioning to composable commerce?


What is SAP Spartacus?
Spartacus is a modern frontend for SAP Commerce that provides standard e-commerce store functionality and connects to the SAP backend through a set of REST API. It will eventually replace SAP Accelerators and become the standard frontend for all verticals. Today, SAP Spartacus has already got a sufficient maturity level to utilize it in B2C projects.
Rationale
For almost 10 years a collection of "Accelerators" presented customers with the ability to quickly develop and customize their commerce storefronts built with SAP. On the other hand, front-end technologies have been advancing in parallel at an astounding pace as a response to the expansive growth of mobile market and in order to offer much better customer experience from the perspective of mobile users. This led to the emergence and domination of JavaScript frameworks like Angular, Vue.js or React.js and a fast decline of legacy frontends.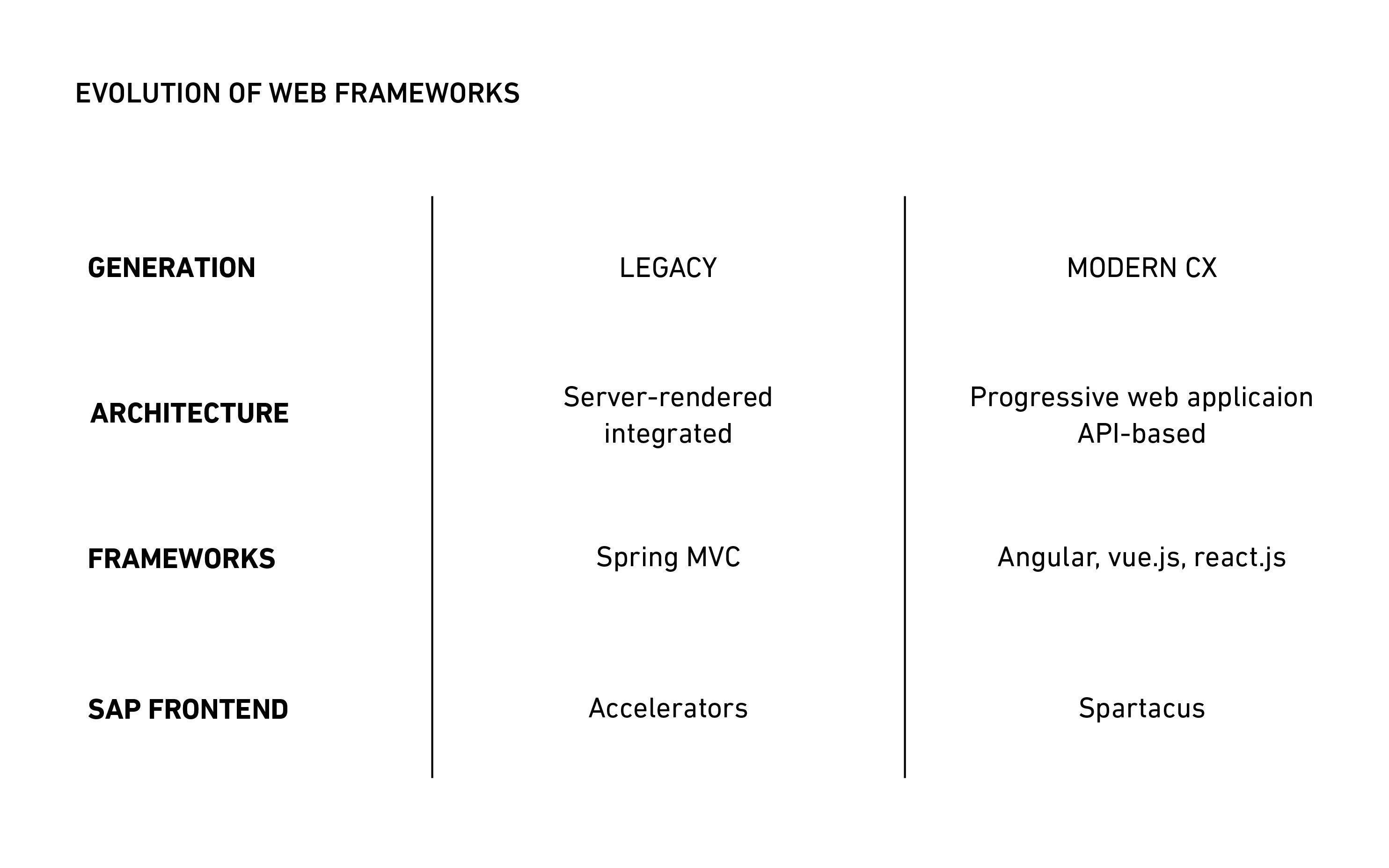 Accelerators cannot keep up with this pace as they belong to the legacy group through their underlying Spring MVC framework. It's based on server-sided rendering and makes it hard or even impossible to create PWAs (progressive web applications) and SPA's (single page applications).
Clearly, SAP needed their own solution for modern times and thanks to the vision and perseverance of some brilliant engineers the giant finally took the right course with Spartacus.
Technology
Technically Spartacus is a progressive web application (PWA), built with JavaScript using the Angular framework. It runs in the users browser and, unlike Accelerators, it is not a part of an enormous code base that is deployed on a SAP Commerce server. The communication between the application running in the browser and the backend is based on REST-APIs exposed by SAP. It makes extensive use of some SAP modules like CMS/SmartEdit which binds it closely to the SAP product portfolio.
History and vision
SAP kicked off the project in 2018 and version 1.0 was published on July 4th 2019. As SAP is committed to push the development of Spartacus so that it will eventually replaces SAP Commerce Accelerators, a decent team is assigned to the project. According to the vision Spartacus will finally become SAP's standard commerce frontend. Today it is feature-rich in the area for B2C, while B2B is growing fast.

At the time of writing (March 2021) the most recent version is 3.1. However, it will still take years for Spartacus to finally implement the vision and make Accelerators obsolete. A full functional parity with the old storefronts will not be achieved before 2023.


What are the main advantages of Spartacus?
Ready to use responsive e-commerce store
Spartacus comes with standard features which compose a fully functional storefront including:
home page
search & navigation
categories
product details
cart
checkout
order history The design of the shop is fully responsive (RWD) and adapts seamlessly to different devices and viewports.
Modern customer experience / PWA
Altogether it provides modern customer experience, decent performance and extendibility. Being a progressive web application (PWA), it provides a chance to create a look-and-feel of a mobile application raising user experience to the next level. It can also make use of push notifications and offer partial availability in offline mode.
Decoupled frontend
Spartacus achieves a decoupling of application layers, thus making the frontend independent of the backend. This modern way of building frontend applications became very popular in recent years and SAP follows suit in this trend of building SPAs. The application communicates with the backend through a set of well-defined API's, which makes it fully independent.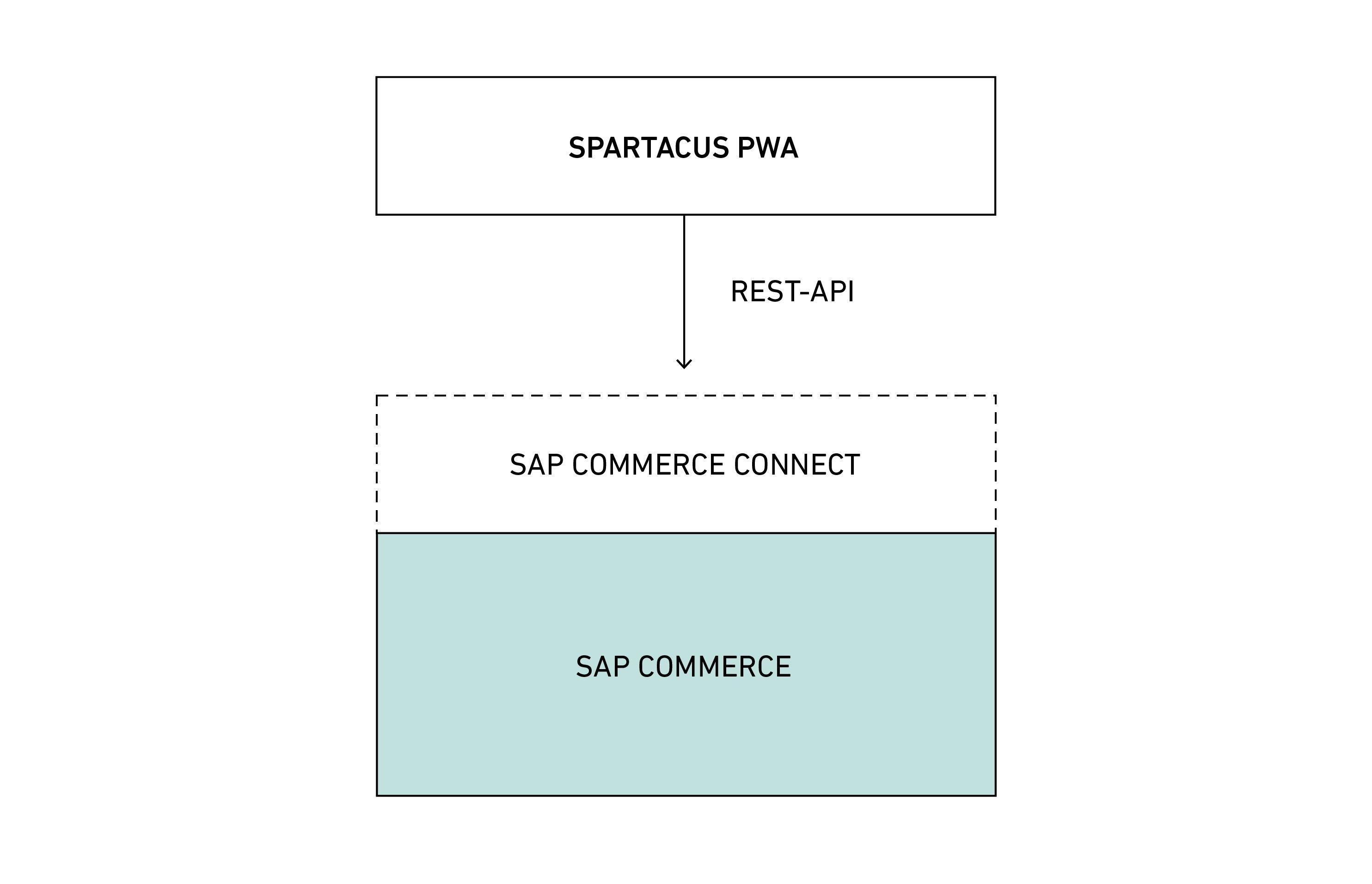 Decoupling provides customers with several advantages:
Modern tech stacks. Frontend can be easily built on different and more modern tech stack, while the existing backend can be reused as long as it exposes required interfaces
Independent release cycles. Frontend and Backend are independent applications, thus they can have different release cycles. Changes to frontend are much more frequent than in backend and they are way less likely to break core processes so teams often decide to release new version while only rarely upgrading backend in a solid, well-tested proces
More efficient teams. Decoupling is a chance for a more efficient work organization in large delivery teams as it is easy to split up the work into two independent areas
Upgradeability
Spartacus is delivered as libraries and, thus, there is a possibility of upgrading your Spartacus application to a new version. In comparison Accelerators were considered templates - projects started with a copy of an accelerator and since this point they lived an independent life. There was no easy option to benefit from future changes of accelerators and most new features would have to be individually transferred and integrated in the old project code.
Now Spartacus allows to upgrade the core libraries of your frontend but it still doesn't mean the upgrade operation is trivial and you can benefit from any feature improvement right away. The process is actually similar to upgrading the SAP Commerce Platform - standard modules are exchanged easily but you have to make sure your extensions work well with the new version of core.
We will write more about the upgrade process in a further part of the series (delivery).
Comparison to accelerators
SAP would often advertise the benefits of Spartacus in comparison to accelerators. But, frankly, in terms of technology and architecture there is more than 15 years between both solutions so they clearly belong to different tech eras.
There is no doubt that Toyota Corolla 2021 is a better car than Corolla 2006. Whether it is better than a VW Golf 2021 is a more interesting and complicated question.
Of course, if you move from Accelerators to Spartacus you should expect clear benefits. Let's then summarize those as well as potential weaknesses.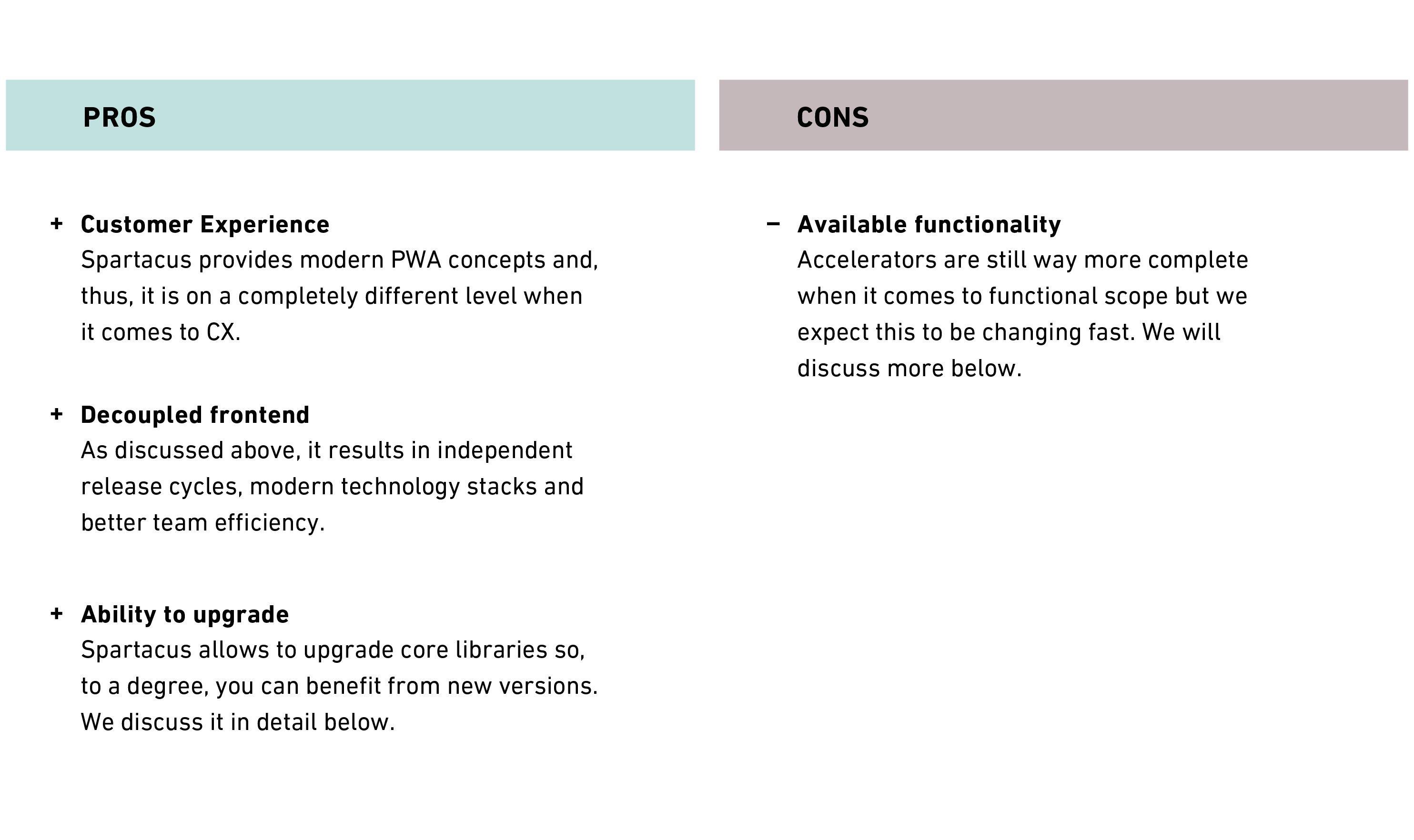 How does it differ from other SAP modules?
With Spartacus SAP seems to enter an entirely new way of building their commerce platform.
Open source
Spartacus is, like very few other SAP modules, an open-source project. A welcome move by the giant and one that will surely make it popular in the community. It is hosted on Github, where it has 75 contributors and claims 500 stars its own. Not a bad start for a SAP project.
Despite it being open source there is no doubt about its SAP's association. Most contributors are SAP Employees or contracted by SAP and the Readme.md states in the first line:
Spartacus is a lean, Angular-based JavaScript storefront for SAP Commerce Cloud.
Spartacus talks to SAP Commerce Cloud exclusively through the Commerce REST API.
Support
As the code hosting is different, so is the support. Thanks to the open-source nature of the project the Spartacus team can make use of more modern communication ways.
Those include:
StackOverflow questions and answers
Slack channel for non-technical questions
SAP maintains a support team in an 18/5 model. Since March 2021 official support is offered for SAP Commerce Cloud license owners.
Is Spartacus a mature solution?
In our eyes Spartacus is a "maturing" solution. As of writing this article in March 2021, we consider it a solid production-ready product for B2C and we feel confident implementing it for major customers. That being said, it is not yet a product that can replace accelerators in all their facets and, as mentioned before, the full parity with accelerators is not expected to be achieved before 2023.
The functional scope is still rather limited and, while building a project, you must expect to implement and maintain a larger set of custom components. However, unlike with the accelerators, after upgrading libraries to a newer version you get a chance to replace those custom elements with standard.
Roadmap
The Spartacus team maintains a long-term roadmap for product development which can be found here.
The Roadmap only serves as general orientation. For instance, Spartacus 3.0 was planned for early September 2020 but it's final release was at the end of the year.
Obviously, the general and ever valid rule for SAP Commerce roadmapping applies to Spartacus as well - you should never rely on SAP's/Hybris roadmaps when planning your project.
What are the alternatives to Spartacus?
Customer Experience expectations have changed so dramatically that there is just no point in sticking to old Accelerator storefronts. It's only a matter of time before organizations build their new modern frontends and there is a legitimate, strategical question on the direction to take here. But is Spartacus the only option or your best option? Let's review the approaches taken by organizations nowadays.
Custom greenfield frontends. The abundance of modern easy-to-use JS Frameworks, the ease and speed of implementing with Angular, React.js or Vue.js leads many teams to building their own storefronts from scratch. It is, in fact, way less unreasonable that it may sound, particularly considering the still insufficient support by dedicated mature storefront-products on the market.

Agency frameworks. Larger and more tech-savvy agencies have developed their own frameworks and used those for multiple customer projects, leveraging synergies and a library approach of their own. They guarantee a faster time-to-market and more solid architecture than the greenfield approach.
Disclaimer: ENGINIETY built IPA.C - Integration Platform Acclerator for exactly the same purpose and with the idea of easily integrating various backends into one stringent e-commerce PWA frontend.
Frontend as a Service (FEaaS). Hosted frontend solutions, which in the future will allow for very fast building of the initial application, high agility, upgrade paths and business tooling, are shifting the efforts from developers to business users. The most notable provider is Frontastic.
Open source storefront frameworks. There is a range of open-source projects which aim at delivering ready-to-use shop applications for agnostic backends. They are still quite immature and, often, too tightly coupled with one particular commerce backend. We expect a lot from the development in this area in the next years but so far it's been underwhelming.VueStorefront makes the most notable example here.
Summarizing the above list - we are still very early in the process of establishing solid PWA e-commerce products/frameworks and a lot can be expected in this area in the future. Considering this Spartacus seems to be at the right time and at the right place. It truly might be your best option if you decide not to open to any other backend and commit to SAP for years.
Will Spartacus help in transitioning to composable commerce?
Composable commerce is the new architectural paradigm in building commerce systems. Drawing from the experience of running monolithic commerce suites in the last 20 years and well aware of their inherent limitations organizations are seeking more agility and efficiency by using best-of-breed SaaS products and integrating those in their platforms.
In composable commerce the platform consists of multiple backends while the storefront gets to play the star role - it integrates them all in one seamless customer experience. When thinking of transitioning to composable commerce it is crucial to consider the storefront's ability to leverage and integrate various backends.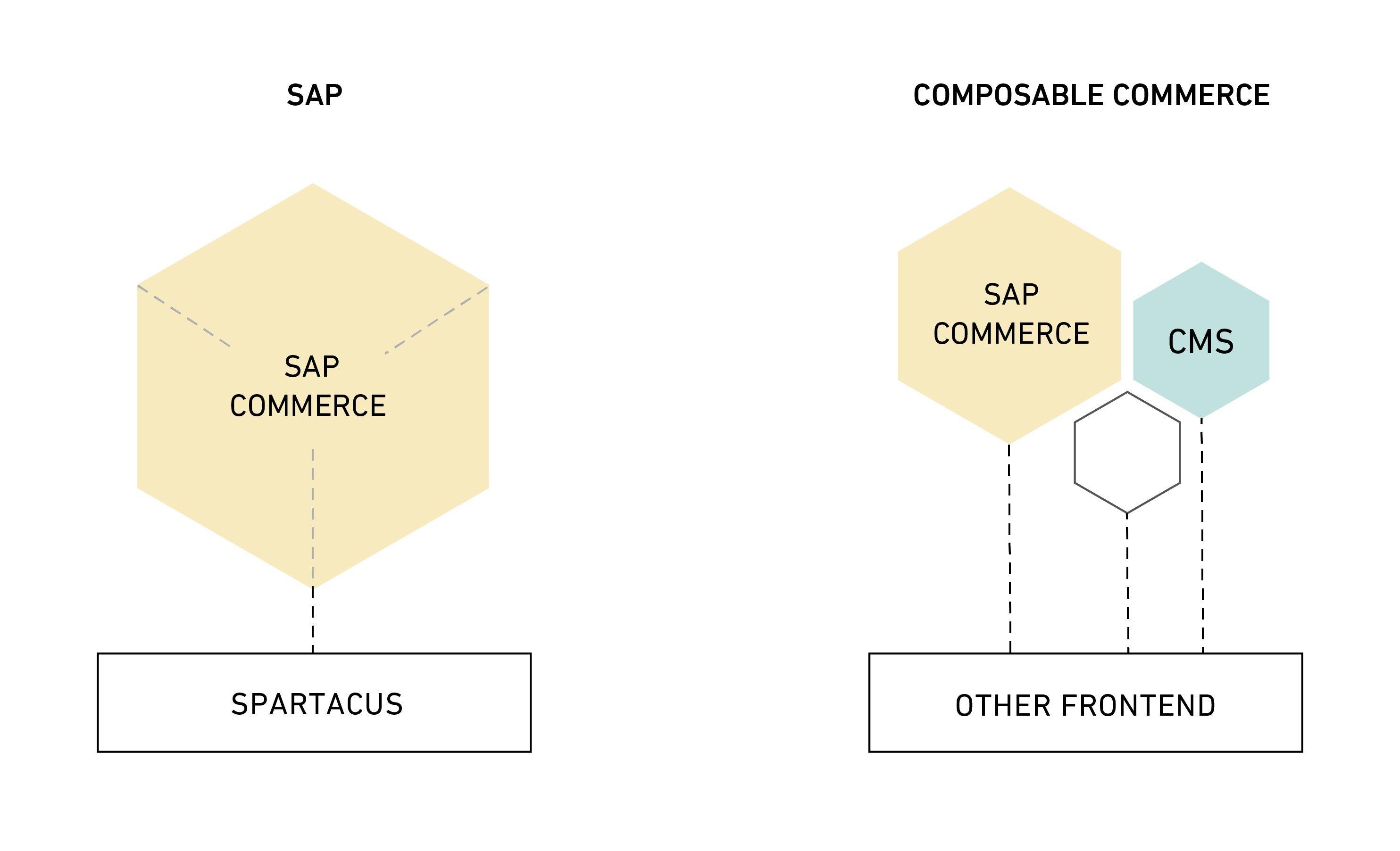 Here lies the biggest weakness of Spartacus. Its clear philosophy is to be the frontend for SAP Commerce and nothing else. It does not make any attempt to support other backends than SAP.
For instance, Spartacus relies deeply on SAP's CMS (SmartEdit) and this integration is essential to presenting any of its pages. It's not easy to plug into this logic, although there have been successful attempts to force an integration by commercial CMS providers (SAP partners). Even if this worked out, in our eyes it may not result in a solid future-proof solution. Spartacus' architecture is not designed with this particular extensibility in mind.
It's not surprising that SAP has chosen the way of a proprietary backend integration for Spartacus. It will solidify its presence in customers systems and reduce the risk of its potential future replacement. However, from the customers perspective this increases the notorious vendor lock-in.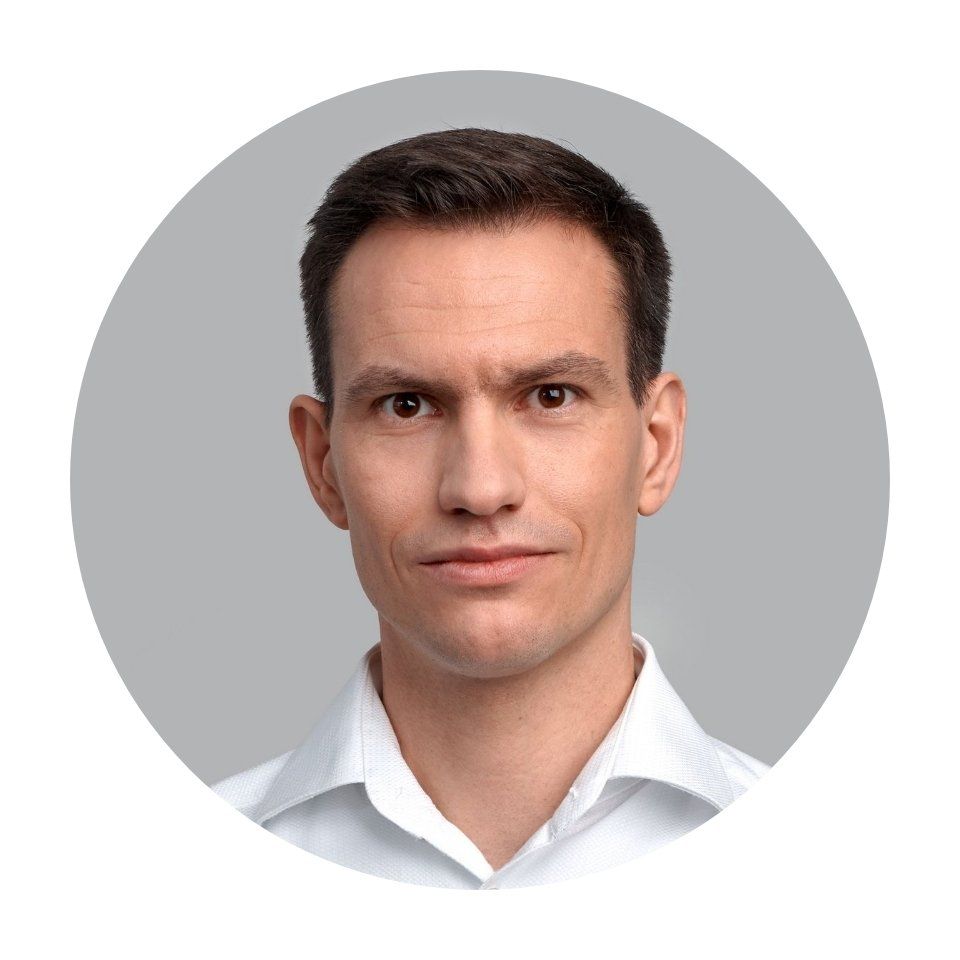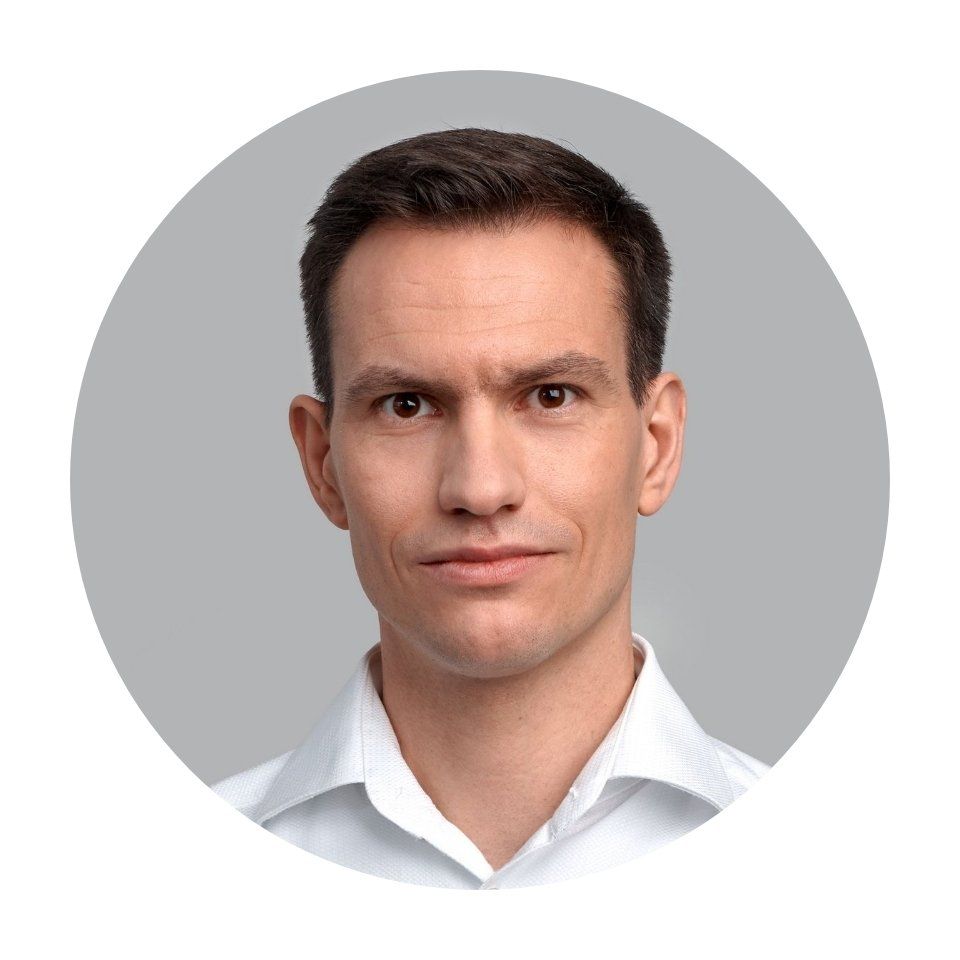 Let's talk
If you're in doubt whether Spartacus is your best or only option, we can help. Our team has 12+ years of experience in working with SAP Hybris. We have a unique knowledge of decomposing frontends and backends for SAP Commerce customers.
This includes successful takeover of launched projects that other agencies failed.
We demonstrated the quality of our work in numerous successful projects for customers with revenues of 500M to over 1B EUR where commerce is the key to generating sales.
 We can help. Drop me a line.
CHECK OUT OUR WHITE PAPERS