Trends, new business models and innovations change the marketing and sales landscape. We often lose the meaning of keywords and expressions such as Digital transformation, Omnichannel, Customer Experience or Mobile-first. The point is quite simple: rapid technological development facilitated the process which has existed ever since there emerged a relation between someone who wants to sell something, and someone who may buy it.

Roles
Nowadays, the sales process is more complicated than ever before, as customer expectations have escalated. The critical element is the quality of the customer experience, independent from the technology. Technological development has always had a significant impact on the nature of sales, because it affects, for example, offer availability and quality, process automation, business scaling, and innovativeness.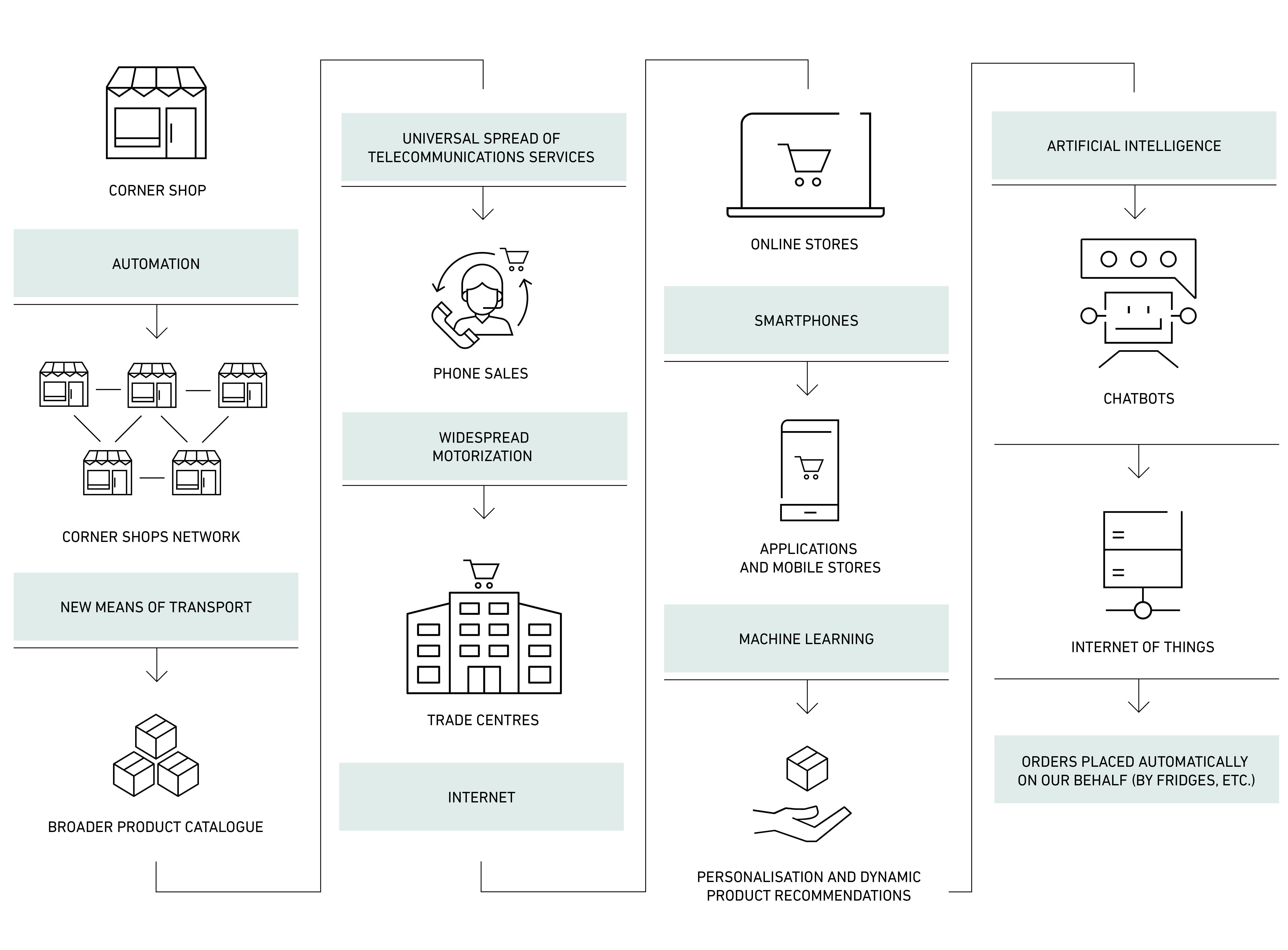 What has changed? Almost everything: what we sell and how we do it, our competitors, customer loyalty. The most crucial aspect of all this is the customer, whose expectations have changed dramatically. However, not only them.

Currently, the customer:
owns more – global well-being has never been at such a high level as today
knows more – thanks to the technology he has access to information here and now
has a broader choice – often so extensive that he feels suppressed by it
Multiple options
A huge number of options is paradoxical because it isn't always good for the customer. The point is that our brains are not used to analyse hundreds of possible options. Our inner structure allows us to perform simple activities quickly, whose aim is to ensure us survival. Evolution has not prepared us to choose optimum running shoes from among hundreds of models available on the market, after taking into account numerous parameters and expectations, which we often cannot specify. In such case, a helping hand reached out by the seller, supports building the brand relationship. Positive customer experience is the potential of natural loyalty. This, in turn, makes the customer a brand ambassador, attracting new clients to it.


Time as a valuable resource
The customer has access to information and opinion, which is why he has taken over control. What he doesn't have is time, which is a valuable resource. However, it is often unfortunately wasted on erring in an imperfect procurement process – e.g., talking to incompetent staff, struggling with product return or filing a complaint. The time which the customer considers to be wasted in the sales process is a scratch on his relations with the brand.


What to do?
There is no universal recipe what a company should do to react properly to the changing reality. Every situation is individual. However, undoubtedly it is worth doing the following:
Make changes at the strategic, not tactical level
Be prepared to face difficulties and challenges
Proceed persistently and tenaciously, remaining agile and open to new solutions and ready for failures
Change the organisation and processes in order to destroy silos, which have often been developed over the years of company operations
Prepare a customer-oriented transformation strategy, not the one focused on the product or market
Understand that investing in technology is necessary and more important than ever before
Change, but remain aware that it is not the time to take the shortcuts

Omnichannel as a team
Transformation is an evolutionary process resembling the one in the animal kingdom – not the strongest will survive, but those who can adapt the quickest. It will be a new sports discipline for many companies operating on the market.

Gathering together the best footballers having amazing skills will not make them a strong team overnight. It is similar in the modern omnichannel organisation – individual achievements of the players don't matter, alongside auxiliary statistics, such as the number of shots or covered kilometers. The only thing that matters at the end of the day is the match result. And everyone contributes to it – from the goalkeeper to strikers.
To transform a company successfully, you need to harmonize many elements and take subsequent steps in the right order. For example, technological transformation should be preceded by organizational and process transformation. Moreover, what you need is not out-of-the-box solutions suppliers. You need transformation engineers and architects, who will be discussion partners for you and will support you with their knowledge and experience, both in terms of developing a long-term plan, as well as its implementation step by step.


Accessibility and trust
Let's imagine an ideal world of a customer: he has full access to information about products and services. In this world, our company acts as a small corner shop from the customer's perspective, although we run a multinational enterprise offering hundreds or millions of products. The point is that the seller should know his customer, recognize his needs, be able to help and counsel. It means that in this world we, as the customers, can trust the seller fully and will never feel manipulated or cheated on.

However, this seller from the corner shop represents nowadays not only stationary shops, but also online stores, customer service employees, mobile applications, kiosks, POSs, and other touchpoints. Nevertheless, brand experience is consistent – independent from the selected touchpoint or purchase process phase. These are the basics of the DIGITAL TRANSFORMATION, this is what enables the implementation of the OMNICHANNEL strategy and develops the unique CUSTOMER EXPERIENCE.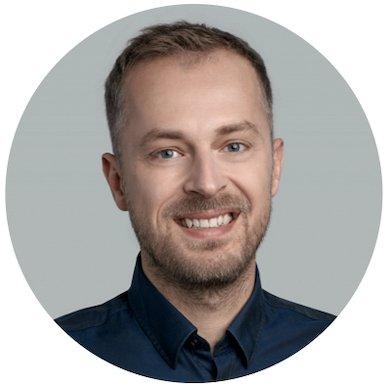 Talk to Krzysztof Molin, our CHIEF EXECUTIVE OFFICER We'd love to support you on your commerce technology journey. Exchanging experiences, discussing challenges and solutions works for mutual benefit. Whether or not we are able to help, we promise we'll always be pragmatic and honest.