12 years of e-commerce enterprise experience at your service
We are the engineers behind your commerce platform. For more than 12 years ENGINIETY has been delivering the most advanced commerce solutions for our European customers. You can benefit from our extensive project experience, technological knowledge, expertise in agile processes and our drive to give your technical baseline its best possible business output.
We have your back on the tech side
Your commerce business is changing in an awe-inspiring pace and your technology must keep up with it. ENGINIETY covers your back by making sure your platform runs smoothly and to the best of its capability. And, as trusted and innovative partners, we work together with you to make it future-proof.
Bringing your commerce to the next level
We believe commerce is going through a paradigm shift now. The future belongs to the best-of-breed backend solutions, hand-picked to meet your needs. Neat mobile-first PWA frontends provide perfect customer experience and glue all the services together into one seamless platform.
As pragmatists, we are aware that the reality still leaves much to be desired but together we can establish and execute a clear strategy to bring your platform to the next level.
Your commerce success relies upon the efficient use of technology in wide range of areas. ENGINIETY advises on your transformation strategy, delivers projects based on leading software platforms, builds ready-to-use components to increase the ROI and provides your platform's support and operations.
Our customers run thriving businesses around their commerce platforms.
Read about how ENGINIETY supports them through its unmatched TCO, well-executed delivery and quick time to market in real-life cases from retail, telco, travel, services and manufacturing.
A sophisticated commerce business strategy, for its effective execution, requires a compound platform. Whether it is based on conventional software like SAP Commerce or modern best-of-breed concepts, it will always consist of key subsystems covering particular business processes.
At our core we are engineers who love to keep to the engine room. However, over the years of engagements with leading customers, we have naturally grown out of our technical role. We understand your business, we share our practical knowledge with you. We also promise we will challenge you and provide a powerful drive to push your commerce strategy forward.
ENGINIETY is run by its owners and our names are the guarantee of commitment and quality. Your account manager is a member of the board and a co-owner of the company.
We take pride in honesty, straightforwardness and transparency. Our primary goal is to always form a long-term partnership with you. Some of our customers have worked with us for 3, 5 or 10 years and we do encourage you to talk to any of them. We are happy to help arranging contact.
Pragmatism, Reliability and Passion
ENGINIETY's mission is to strive to be your most productive, reliable and proactive partner. But, above all, we are full of passion, energy and fire for what we do. This is an essential part of the recipe for the success of your business.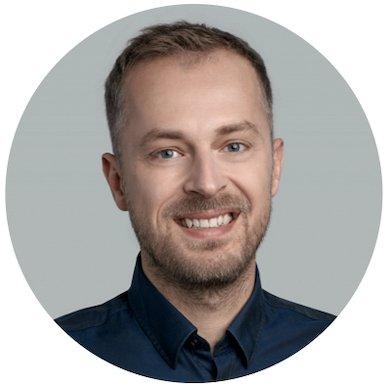 Talk to Krzysztof Molin, our CHIEF EXECUTIVE OFFICER We'd love to support you on your commerce technology journey. Exchanging experiences, discussing challenges and solutions works for mutual benefit. Whether or not we are able to help, we promise we'll always be pragmatic and honest.